Best Diagnostic Scanner for Mercedes-Benz Cars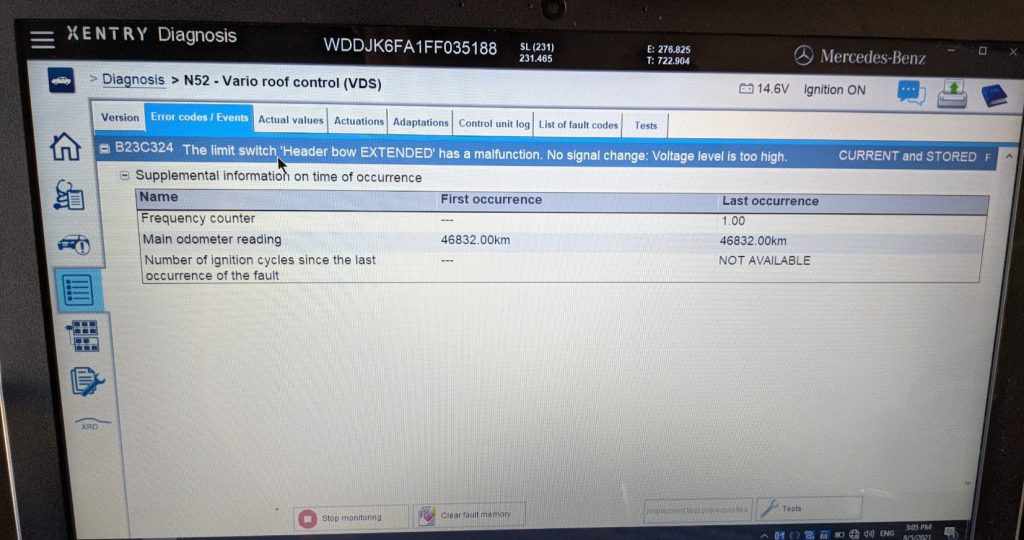 Mercedes-Benz cars are computers on wheels. When a simple sensor fails such as an ABS wheel speed sensor, half of the systems on the car get disabled. If you want to find out the problem, you can either go to the dealer shop and pay an hour or two of labor or figure out what is causing the problem using a good diagnostic scanner.
While dealers use Mercedes-Benz Star Scanner, which is too expensive to own and requires a subscription there are a few diagnostic scanners that get very close to the functionality of Star Scanner.
A good Mercedes-Benz scanner can read all the data from all control units. Not just, codes that cause the check engine light to illuminate light on your dashboard. The best scanners can go beyond the generic OBD2 codes can read Original Equipment Manufacturer (OEM) specific codes and can even give more information about your Mercedes-Benz.
1. Mercedes-Benz MB Star Diagnostic System
Mercedes-Benz does not allow generic scanners to access some of the complex modules on your vehicle. The Star Diagnostic System is an official factory and dealer tool for Mercedes-Benz. The scanner can help troubleshoot engine problems and the convertible top and air suspension system. You can modify and change the most profound settings of your Mercedes-Benz, just like when you turn on the rain-sensing wipers of your vehicle (for some models), and you turn it on the computer, the feature will work.
Of course, if you are an auto repair shop that specializes in Mercedes-Benz cars, you should invest in Star Scanner. To really get the full benefits of this scanner you need to purchase the scanner ($4000+) and pay a yearly subscription that for Mercedes-Benz owners doesn't even make sense.
2. YOUCANIC UCAN-II Full System Scanner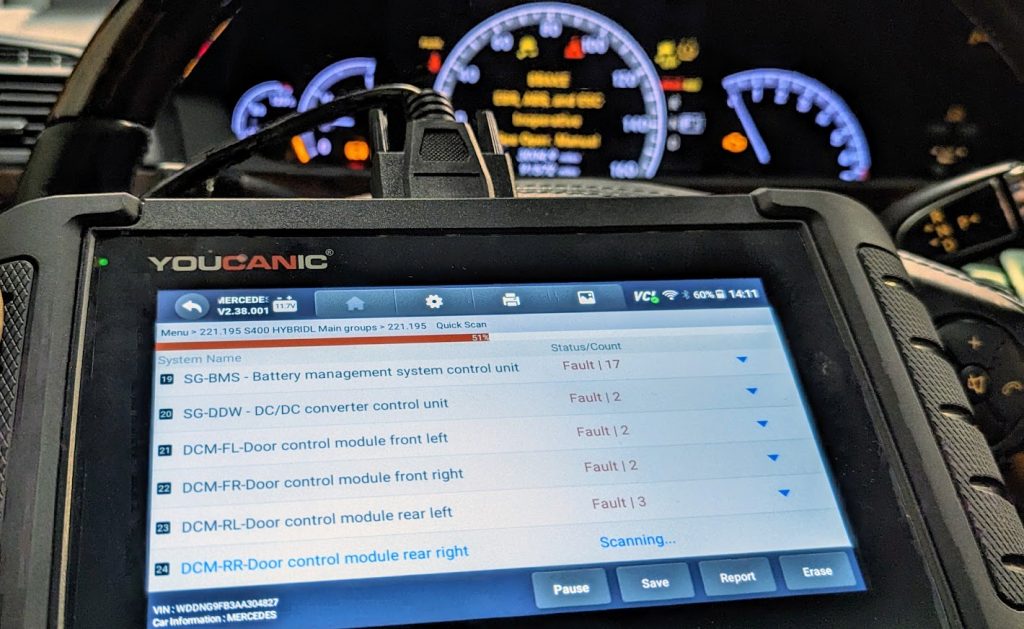 The YOUCANIC scanner while new in the market is definitely a game changer. Not only can it diagnose all the systems on Mercedes-Benz cars, but it can also view live data from all systems, including transmission, traction control, and airbag. It can even check live data from the hybrid battery on hybrid models.
In addition, it offers bi-directional support which allows you to control a lot of sensors and motors from the scanner. you can even control transmission gears from the scanner or the Airmatic suspension without even starting the car.
While there are other scanners out there that can do these things, the YOUCANIC scanner has a very competitive price considering that it also works on most other makes. Plus it does not require a yearly subscription to keep using it.
Lastly, the company seems to truly focus on helping people with their car problems. They have hundreds of how-to videos and guides on their website which you do not get with any other scan tool.
Oh, and did I mention they have a dedicated support app if you want help or feedback with a car problem?
YOUCANIC team is located in Baltimore and pretty quick with support while most other scanner companies even though they have offices in the US, are Chinese companies.
3. Autel MaxiSys Scanner
Autel makes professional-level diagnostic tools. The company makes high-end systems and creates an accessible diagnostic tool for DIY mechanics. The scanner has a color screen to read the codes easily. Its MaxiSys models can do nearly anything the factory computer can do, but it costs a lot.
For a budget-friendly option, the MaxiSys would be a great scanner. It can retrieve generic and manufacturer-specific codes, present freeze-frame data, and shows the vehicle's emissions status.
MaxiSys is one of the more expensive scanners on this list but it's a good choice if you are looking to do programming and coding. Just don't expect it to do key programming and that is too complicated even for the Autel MaxiSys scanner.
4 iCarsoft MB II
If you are on a tight budget and want to just read and clear codes from all models, then consider the iCarsoft MB II scanner. It only works on Mercedes-Benz though and does not offer bi-directional support.
The interface is quite outdated in 2023 and the support doesn't even compare with YOUCANIC, and if you need to diagnose any other vehicle, you need to buy another scanner for the other make. If you really plan on doing regular maintenance and repairs on your cars then it makes sense to invest in one of the previous options.
iCarsoft does have a multi-brand scanner as well but that is more expensive there seems very little on the scanner at the time of this writing.
5. Innova 5610
The Innova 5610 has a large screen that helps you to make reading data and trouble codes easy. It handles basic and manufacturer-specific trouble codes and can watch graphs of what is happening in your Mercedes-Benz.
Moreover, it can scan nearly every control module of your Mercedes-Benz. What makes the Innova 5610 step above is that it can handle bi-directional control modules and sensors. You can disable a module for testing or set it to close and open the EGR valve to test its performance when troubleshooting and solving issues. The Innova 5610 can be extremely helpful for an advanced home mechanic.
6. ScanGauge II
The ScanGauge II is a diagnostic tool and add-on gauge for your Mercedes-Benz. Like any other scanner, it will let you see diagnostic information, including showing and clearing trouble codes for active and stored codes. It can present performance monitors, multiple trip computers, and other gauges on a small screen. The backlit display of the ScanGauge II can show you the RPM and speed, the temperature of the air intake, fuel pressure, water temperature, ignition timing, and more.
Likewise, it can help you save fuel because you can see the average fuel economy and instantaneous fuel consumption reading and display a cost per mile based on your last fuel tank.
7. BlueDriver Pro
Like all scanners, the BlueDriver Pro can read and clear all OBD-II standard codes. It is another highly recommended scan tool because it goes beyond that and can present you the freeze frame data, a presentation of exactly what happens when the trouble code is triggered.
Furthermore, it offers live data to see the precept in every sensor and can tell you if your vehicle is ready for emission testing. Another great feature of this scanner is that it can show a repair report for the trouble codes. The reports present the causes, fixes, and information that helps you check the problem.
Conclusion
The best scanner for Mercedes-Benz cars, SUVs, and Sprinter vans is without doubt the STAR scanner used by dealers. That doesn't mean that it is the best option for Mercedes-Benz owners who are looking to skip going to the dealer for every warning light that comes on.
The STAR scanner is expensive to own and requires yearly membership. Sure you can get a Chinese clone but you are spending hundreds of dollars, and need a dedicated computer to run. Not only then you have to worry about learning how to use STAR but you have no guarantee about how long the system will work.
If you really are looking for a scanner for Mercedes-Benz that won't give you headaches then the second best option is the YOUCANIC full-system scanner. When you consider the capabilities of the scanner combined with the video guides and support the YOUCANIC team offers, it's a smart investment.
Meanwhile, if you are on a very tight budget and want the cheapest scanner so that you can clear that warning light then the iCarsoft MB II may be worth considering.