Just launched: Jeep Wagoneer / Hyundai Palisade / GAC Empow / Hongqi Ousado
Hongqi drives UAE presence with distributor ALTAWKILAT
Chinese luxury brand that has been turning eyes on UAE roads for some time now has taken steps to consolidate their presence and aim for greater growth, in partnership with ALTAWKILAT, the distributor who drove the brand's success in Saudi Arabia.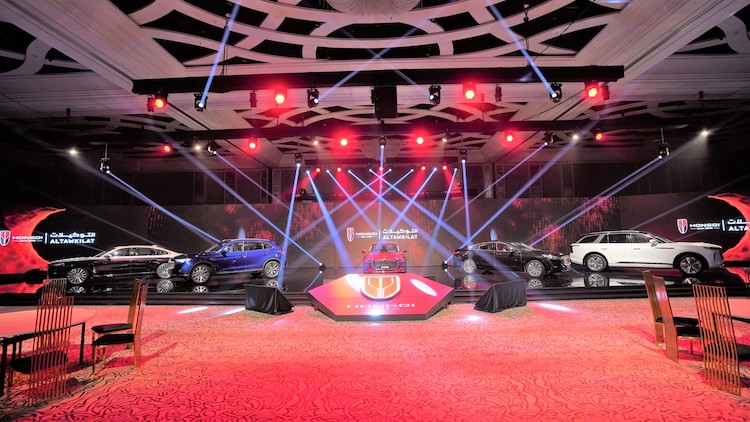 Hongqi have also revealed the all-new Ousado that had its world-premiere in Riyadh last December. Apart from a more modern exterior, the luxury sedan houses a new four-cylinder, two-litre turbo engine and some of the most advanced safety features.
At the long-coming launch, Cheng Zhang, Director of Hongqi in the Middle East, said: "All of Hongqi's vehicles are equipped with high quality, state-of-the-art features, using the same manufacturing standards as national leaders to create models with luxury and comfort at the forefront, while also integrating driving control and safety. Hongqi not only stands for luxury and prestige, but also for heritage. There is a long history behind this brand that makes it a subject of pride, considering how far it has come."
The first of the distributor's facilities in the UAE is now open in Abu Dhabi, where Hongqi vehicles come with after-sales benefits including 7 years of unlimited kilometers manufacturer warranty, 7 years of road-side assistance and 7 free periodic maintenance visits (or 3 years whichever comes first).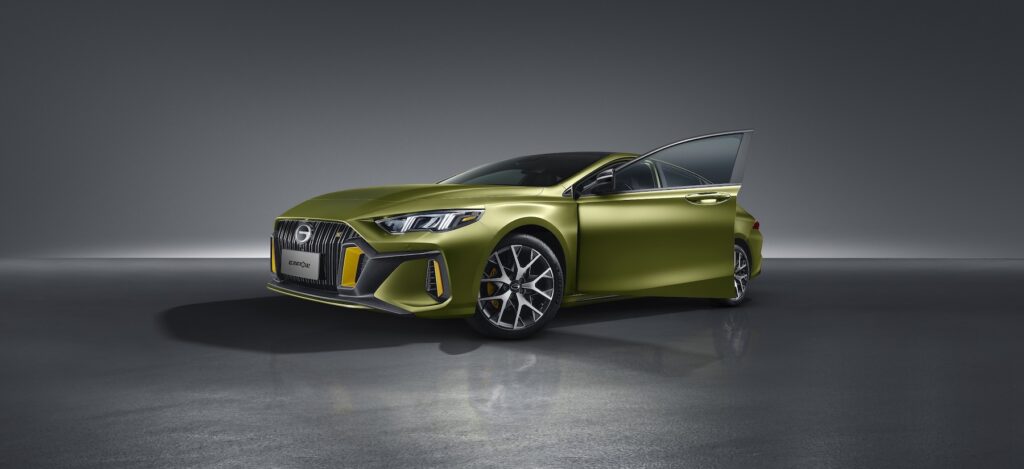 Gargash Group launches All-New GAC EMPOW 
GAC Motor was the first ever Chinese brand to take part in the Gumball 3000, the world's most crazy and extravagant car rally. Last month, it stopped us in our tracks for a different reason: the launch of a sporty and stylish sedan named like a punch packed with a superhero blow. The name you are fishing for is EMPOW.
Gargash Group, known for their showcase of luxury performance-oriented cars in the UAE, and distributors of the GAC brand, launched GAC EMPOW.
The car promises an exhilarating drive supported by advanced smart features, inspired by a stunning race-car design and ultimate handling. An iconic wider and lower stance coupled with its race car-style exhaust sound makes its sporty credentials more convincing. GAC Motor has chosen UAE to be the first market in the Middle East to showcase the EMPOW in a land that loves sports cars.
Driven by a 1.5T GDI engine, EMPOW brings on a more intense, sporty, youthful vibe with 177 max horsepower & 270 Nm torque delivering strong power coupled with superb handling. It is equipped with a central console screen, wireless phone charging, the L2 ADAS feature etc. making it more advanced in terms of technology, innovation and smart driving experience than its segment rivals.  GAC Motor seems to be eyeing the dynamic sporty sedan segment and EMPOW is gearing up to get it in style.
The EMPOW is available in five catchy colours including Classy Black, Moon Grey, Ivory White, Glossy Fighter Green and Matte Fighter Green.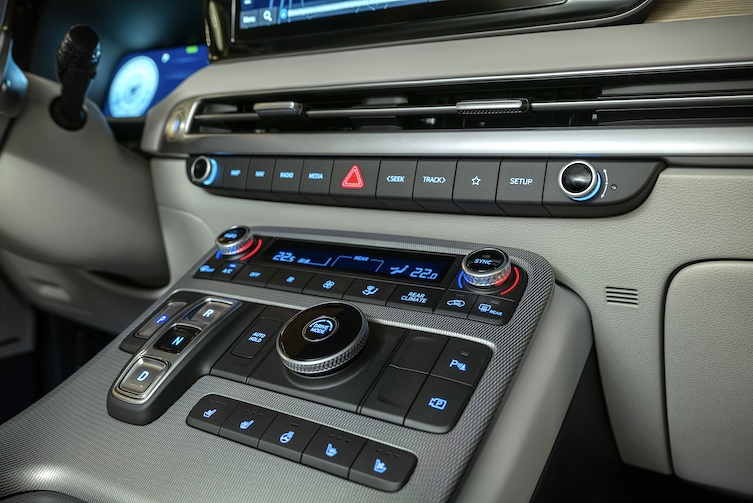 2023 PALISADE GETS A REFRESH
2023 Palisade comes with a refreshed design both on the interior and exterior elements, and boasts novel convenience and safety tech, including ADAS (advanced driver assistance) systems.
Design and exterior
The premium looking grille is now wider and the cascading reflects its robust shape. A notable design DNA signature is the new headlight system with vertically connected LED composite lights giving a sharp-edged frame to the grille. The Palisade 20" wheels show off their new spokes while the distinctive vertical LED taillamps and lower fascia skid plate details add to the wide stance.
The functional side of striking design changes outside would have to do with aerodynamics. It is so in the new Palisade, with a fast A-pillar angle, a garnish on the rear spoiler side, and the front cooling area with an extended internal air guide, underside aero panels, and rear wheel aero deflectors.
Palisade's power comes from two engine choices
A 3.5-liter MPI V6 delivering 277 horsepower and 336 Nm torque, an even more aggressive Atkinson-cycle 3.8-liter V6, dual CVVT, direct-injected engine, that produces an estimated 295 horsepower and 355 NM of torque. Palisade delivers that power to the wheels via a refined eight-speed automatic transmission with a multi-plate torque converter and offers both two-wheel and HTRAC® four-wheel-drive configurations, with a final drive ratio of 3.648 for confident acceleration.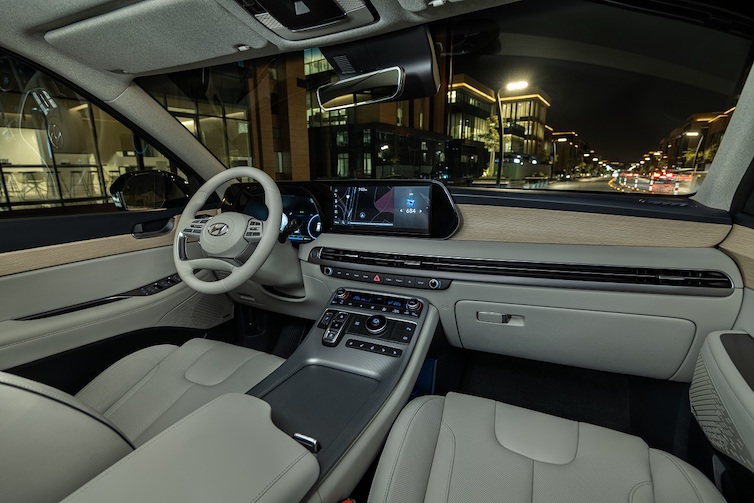 Quiet, luxurious cabin comfort
Palisade is extremely quiet, with generous under-hood insulation, special sound-deadening carpets and powertrain tuning that delivers smooth, linear response. Passengers in the second row can travel in greater comfort with the added wing-out headrests and seat ventilation. Another smart tech feature is the optional full display "digital center" rearview mirror, which uses a rearview camera that gives a clear view of the rear no matter how tall the passengers or cargo. The 12-inch display has many applications and functions, including smartphone connectivity and mirroring capabilities. Wireless charging capability has been upgraded from 5 watts to 15 watts for faster device charging.
The Palisade has eight seats. A novel practical feature is the One-Touch second row seat, which makes it easy to push the seat forward and out of the way for easy access into and out of the third-row seat. The third row offers power-folding/unfolding and reclining seats while captain's chairs come optional for the second row. A family-oriented tech feature is the Ultrasonic Rear Occupant Alert, which monitors the rear seats to detect the movements of children and pets, reminding drivers to check the rear seats when exiting the vehicle.
Family first, safety first
In the 2023 Palisade, the cabin occupants enjoy the protection of rear side-impact airbags as standard. The most advanced safety and driver assistance features include Forward Collision-Avoidance Assist, Blind-Spot Collision-Avoidance Assist, Safe Exit Assist, Driver Attention Warning, High Beam Assist, Lane Following Assist, Rear Cross-Traffic Collision-Avoidance Assist, Reverse Parking Collision-Avoidance Assist and Remote Smart Parking Assist.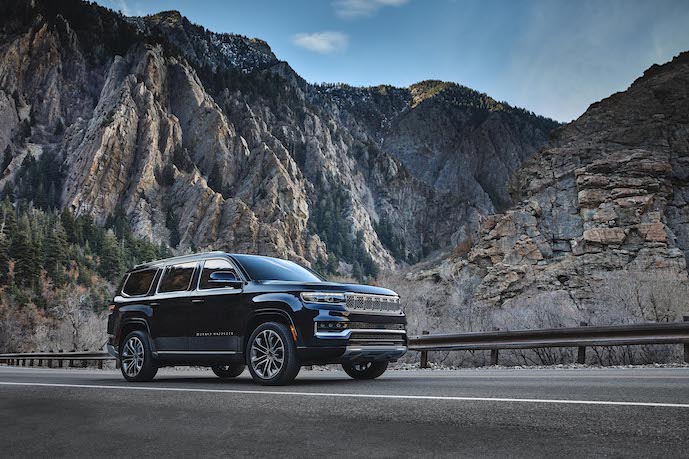 JEEP WAGONEER 2023 WORLD COMEBACK
Middle East witnessed the rebirth of a premium American Icon for the whole world with the international debut of the 2023 Grand Wagoneer – a premium extension of the Jeep® brand.  Originating in the US in 1963, Grand Wagoneer was considered a pioneer of the SUV segment. The 2023 Grand Wagoneer will attempt to create history once again with its legendary capability, advanced technology, new level of comfort and sophisticated design.
Through their 'Dare Forward 2023′ strategic plan, Stellantis aspires to be number one in market share by 2030 while leading the energy transition. "The entry into the market of the most luxurious and technologically advanced SUV in our history will be a key driver towards our ambitions for the future," Samir Cherfan, Chief Operating Officer at Stellantis Middle East & Africa,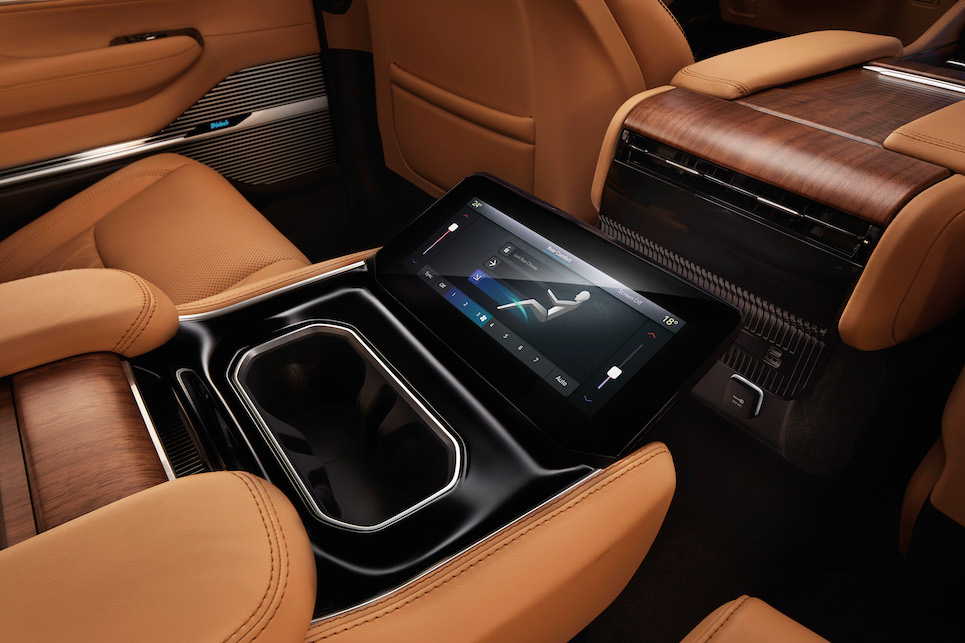 Christian Meunier, Jeep® Brand CEO called it "the most luxurious and technologically advanced SUV that we have introduced in our more than 80 years of history." Launching Grand Wagoneer, they have North America and the Middle East in mind and the car has been engineered and tested in both regions to deliver the ultimate combination of luxury, technology, and best-in-class off-road capability." With the All-New Grand Wagoneer, Jeep aims to become #1 American Premium Brand in the Full-size SUV segment in the Middle East
Featuring three 4×4 systems and an all-new architecture that delivers exemplary on-road driving performance, the 2023 Grand Wagoneer epitomizes luxury and adventure. The advanced tech includes Uconnect 5 system. 75 inches of total digital display screen area adds up from 45 inches of screen across the front dashboard, Fire TV integration, digital rearview mirror and exclusive Rear Seat Monitoring Camera.  Over 120 leading-edge safety and security features are also a part of the 2023.
Autonomous vehicle capabilities, hand-free active driving assist, night vision with pedestrian and animal detection, intersection collision assist, drowsy driver detection, digital rear-view mirror and 360-degree surround view camera are just some of the many attributes of the cutting-edge, large segment SUV.
2023 Grand Wagoneer features the new 3.0-liter Hurricane twin-turbo, inline, six-cylinder engine that delivers an output of 493 hp / 670 NM along with better fuel economy and fewer emissions than larger engines, while at the same time generates more horsepower and torque than many competitors' naturally aspirated V-8 engines.
Grand Wagoneer will officially arrive in the Middle East in the first quarter of this year with a starting price of USD 126,800 (pre-VAT) which is close to AED 466,000. It will be exclusively sold in the Middle East and North America.