Electric Corvette sparked on 70th anniversary
Exactly 70 years since the Corvette debuted at Motorama in New York City, Chevrolet is bringing us the 2024 E-Ray – the first-ever electrified Corvette with all-wheel-drive and a powerful 6.2L LT2 Small Block V-8.
Electric Velocity
The new Corvette E-Ray adds an advanced electrified propulsion system to the V8 enabling all-season performance. E-Ray is also the only sports car pairing two separate propulsion systems to provide naturally aspirated V-8 power with electrified responsiveness powered by eAWD, making it one like none. The E-Ray is the quickest production Corvette in history, clocking a 2.5-second 0-60 mph time (depending on the take-off) before breezing through the quarter-mile in 10.5 seconds (depending on the initial movement).
Double power punch
The Corvette experience is marked by an almost immediate feeling of thrust from low-end torque just as throttle opens wide. The e-Ray with its V-8 puts out 495 horsepower and 637 N-m of torque (470 lb ft) to the rear axle. It is complemented by an electric motor that channels an additional 160 horsepower and 170 N-m (125 lb. ft.) of torque through the front wheels through a 1.9 kWh battery pack which is located between the seats. In total, E-Ray produces a combined 655 horsepower from both the electric motor and Small Block V-8.
Stealth mode
The 2024 Corvette E-Ray's electrified propulsion system provides exhilarating acceleration to shoot off corners, and effortlessly overtake on superhighways. The Corvette E-Ray also has two driver-initiated electric modes. They allow the car to move stealthily while electrically propelled. When elected at the start, 'stealth mode' allows you to slide out your neighbourhood unheard, on all-electric power, at speeds under 45 mph (72 kmph).
The amount of electric assist is built into each of the six driver-selectable modes: Tour, Sport, Track, Weather, My Mode and Z-Mode. Drivers can also select Charge+ feature which maximizes the battery's state of charge.
So, does the motor improve fuel economy? E-Ray's standard Active Fuel Management system uses the electric motor to extend 4-cylinder operation in various driving scenarios.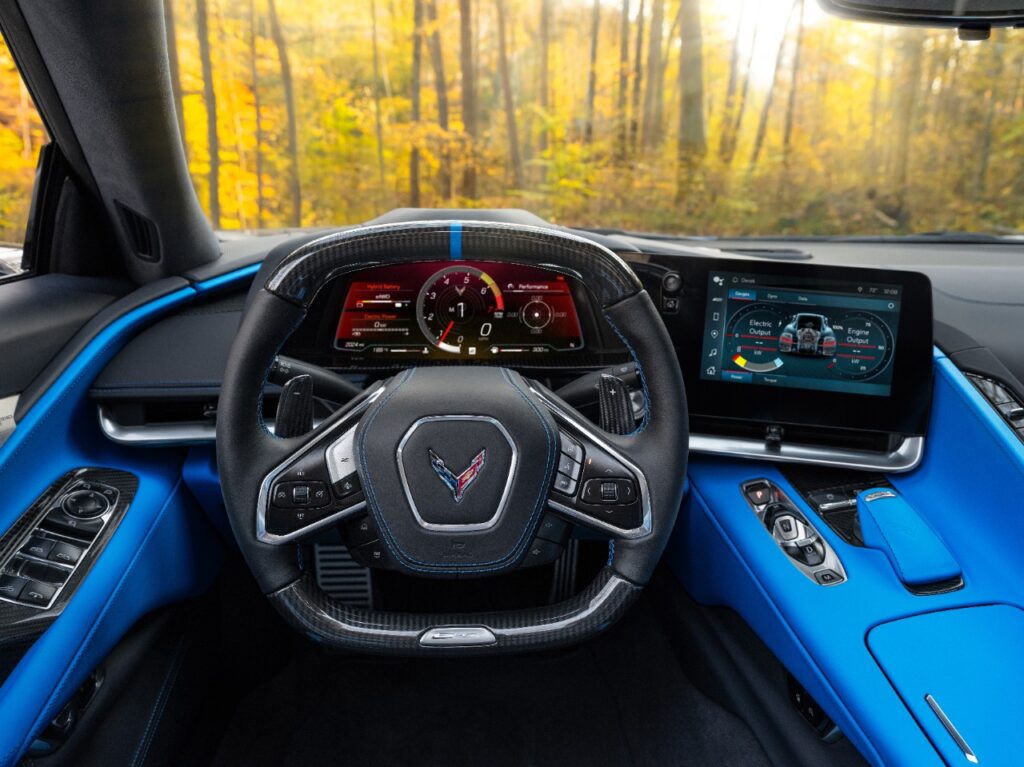 Greater control
E-Ray's intelligent eAWD system is constantly learning the road surface, seamlessly adapting to meet traction conditions and driver needs. During spirited driving and in low traction environments, E-Ray's eAWD system throws more power to the front wheels to improve vehicle stability.
Improved drive experience
Some of the features that celebrate the Corvette's drive a little more gleefully are standard Brembo Carbon Ceramic brake system, standard Magnetic Ride Control 4.0 with three distinct suspension settings, staggered 20- and 21-inch wheels with Michelin Pilot Sport all-season tires, a stance that is 3.6 inches wider than Stingray's to account for the additional torque, a longer driver assistance list with Lane Keep Assist and Lane Departure Warning, Forward Collision Alert and Automatic Emergency Braking.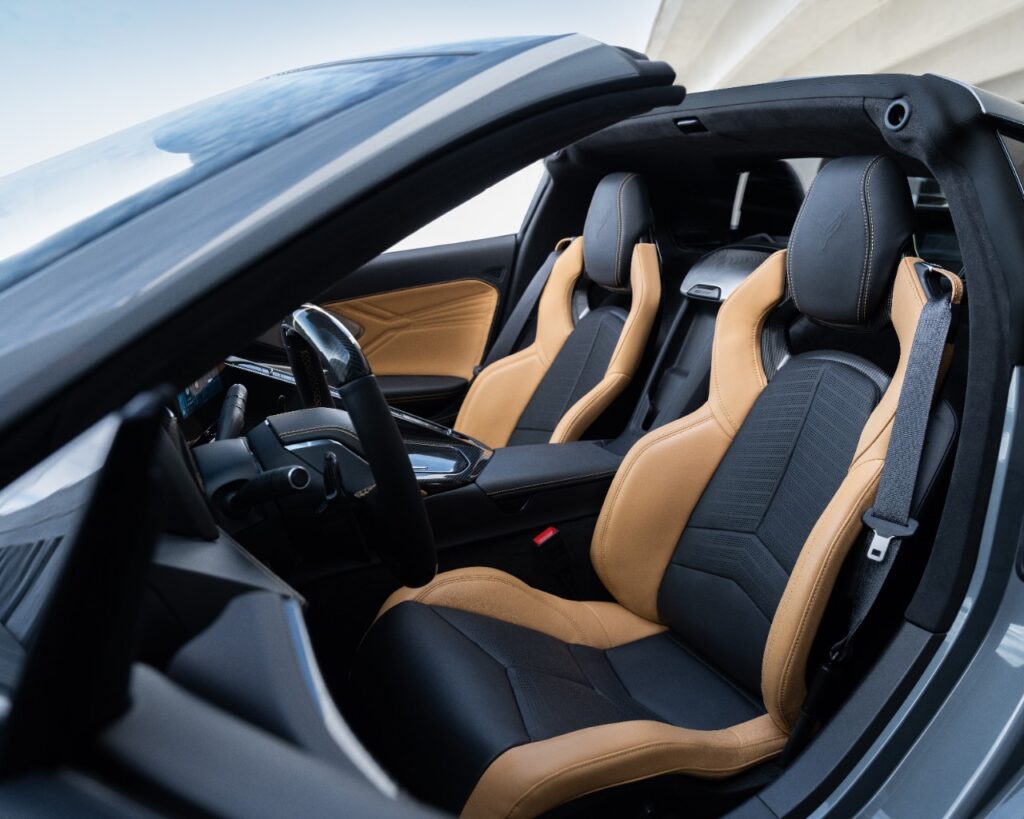 Charging
Plug-in charging is not required for the E-Ray's battery system. The charging keeps happening via regenerative energy from coasting and braking, as well as during normal driving.
Design quirks
First look, the E-Ray shares its purposeful, wide-body proportions with the Z06, accommodating wide wheels that help manage the car's greater torque delivery. The lightweight alloy wheels have a twisted five-spoke star design that is exclusive to E-Ray.
The fourteen colours you can catch an E-Ray in includes three new for 2024: Riptide Blue (featured below), Seawolf Gray and Cacti – sounds fancy! The interiors can be personalized using two carbon fibre trim packages, three seat choices, seven interior colours and more. Other new traits are a Charge+ and Stop/Start buttons on the console as well as updates to the infotainment system and instrument cluster aimed at providing a more integrated appearance.