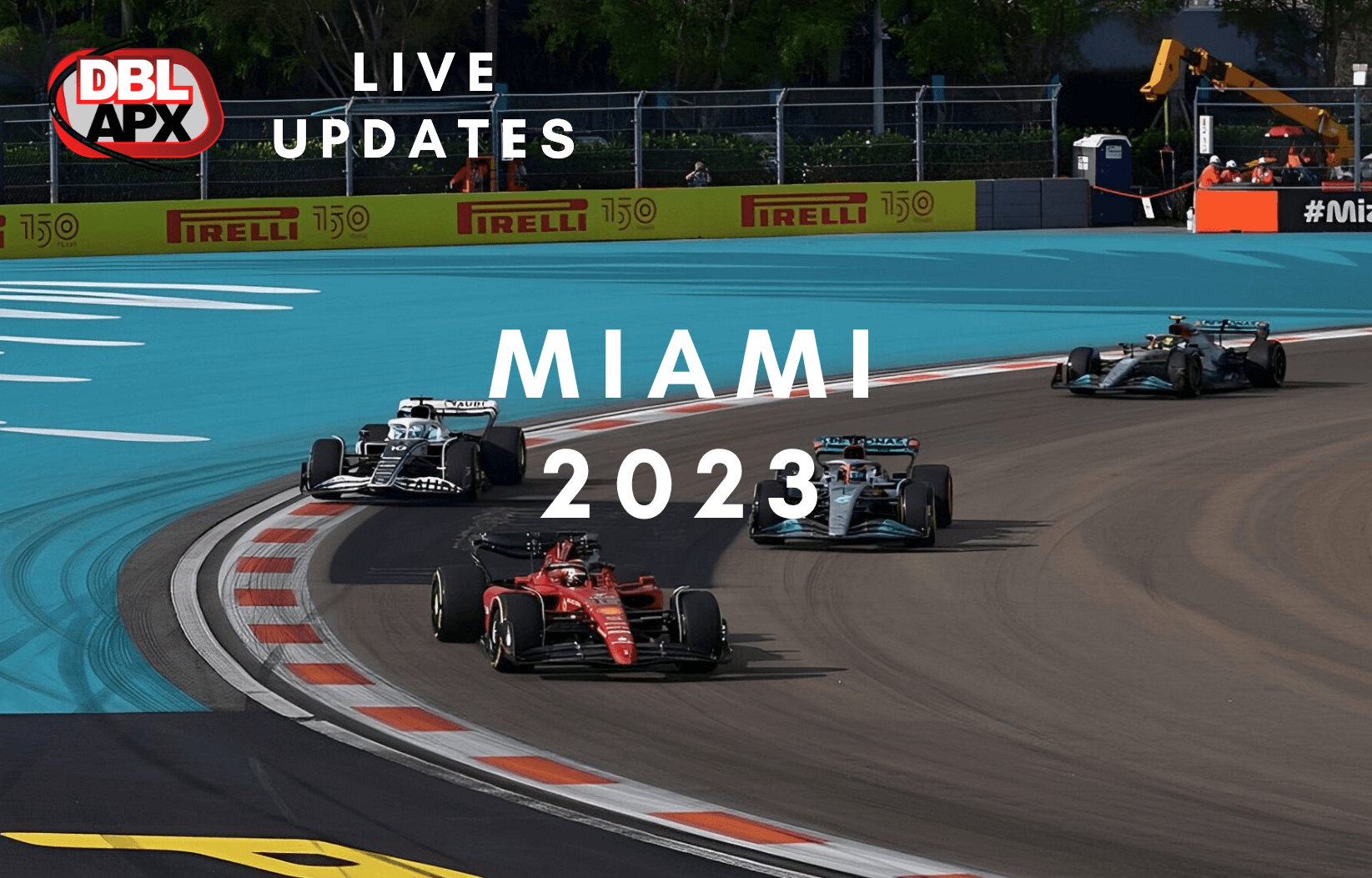 F1 Live Updates: Miami 2023
Keep up to date with all the highlights of the race in our post Live F1 Updates: Miami 2023 which outlines the race as it unfolds.
Follow Double Apex on Instagram and Facebook where we share more car content. Check out more Formula One content in our dedicated section.
FINAL PODIUM
Verstappen
Perez
Alonso
LAP 57/57: CHEQUERED FLAG
Max Verstappen wins the Miami Grand Prix. Perex finishes in P2, with Alonso closing out the podium in P3.
LAP 55/57: HAMILTON IN P6
Hamilton managed to overtake Leclerc to claim P6. Russell is in P4, around 7 seconds behind Alonso. While this is a decent result for Mercedes, it's impressive since Hamilton started the race from P13.
LAP 53/57: HAMILTON'S PACE
Hamilton also made the switch to medium tyres and is closing on Leclerc in P6. The Ferraris seem to have high tyre degradation and have been asked to take it easy by their engineers. Hamilton overtakes Gasly to claim P7 and is just nine-tenths behind Leclerc.
LAP 48/57: MAX BACK IN THE LEAD
Max Verstappen overtakes Perez into turn 1. The pace that Max showed with the hard tyres allowed him to enjoy a massive offset on the medium tyres. Unless something goes terribly wrong, Max should comfortably take the win in Miami.
LAP 45/57: VERSTAPPEN PITS
Max pits from P1 and comes back on track 1 second being Perez. Max will now have fresh medium tyres to challenge Perez in the final 10 laps of the race.
LAP 43/57: MAX'S ADVANTAGE
Max Verstappen has been on the same set of hard tyres for the last 42 laps. However, he is still managing to maintain the gap to Perez in P2. Since Perez is 18 seconds behind, Max can pit and come back 1 second behind Perez on fresh, fast tyres. Perez needs to increase his pace to stay in the running for the win.
LAP 38/57: RUSSELL OVERTAKES SAINZ
Mercedes seems to have some pace as Russell makes the overtake look easy on Sainz. This leaves Russell in P4. Further down the track, Haas and Ferrari are trading positions. The Haas of Kevin Magnussen has serious pace and is challenging Leclerc consistently lap after lap. Hamilton has been called into the pits to make his tyre change, slotting back in P12.
LAP 35/57: MERCEDES' STRATEGY
Hamilton let Russell through to challenge Ocon. Both Hamilton and Ocon have not pit yet, so it seems like Mercedes is aiming for a top-five finish for Russell and a points finish for Hamilton. Perez is around 15 seconds behind the race leader, with Verstappen yet to pit for medium tyres. When Max does pit, he will come out in P2 or P3 since Alonso is close by.
LAP 29/57: ALONSO IN P3
Alonso claims the final spot on the podium by overtaking Ocon. Max is matching the lap time of Perez, with Red Bull hinting that the two drivers can meet each other in the final three laps of the race.
LAP 27/57: ALONSO VS SAINZ
Alonso managed to overtake Carlos Sainz with his fresher tyres. Sainz is managing to stick behind the Aston Martin, but Alonso seems to have everything under control to claim the final podium spot. While Ocon is still ahead of Alonso, he is yet to pit.
LAP 25/57: ALONSO PITS
Alonso comes into the pits to change onto hard tyres. Perez is around 16 seconds behind Max in P2, with Max set to lose around 18 seconds when he eventually comes in for a pit stop.
LAP 24/57: PENALTY FOR SAINZ
Carlos Sainz has been handed a 5 second penalty for speeding in the pit lane. Hamilton has managed to finally overtake Hulkenburg to take P6. However, the 7-time World Champion is yet to change his tyres. Russell has also made moves in the last few laps and has overtaken Stroll. This sees Russell claim P9, having already pit for hard tyres.
LAP 21/57: PEREZ PITS
Perez comes into the pit lane to change to hard tyres. This leaves Max to lead the race. However, Perez had an incredibly quick stop of just 2.2 seconds. This leaves him in a great position when Max eventually has to pit.
LAP 19/57: SAINZ PITS
Carlos Sainz locks up as he enters the pit lane. Sainz tried to get passed Alonso for the last few laps before Ferrari called him in for the undercut. Max is also making gains on Perez since he is on the better tyre. Perez is on mediums that should be due for a pit stop sometime soon.
LAP 15/57: MAX IN P2
Max has closed the gap to Carlos Sainz over the last few laps. Since Sainz could not challenge Alonso in P2, Max managed to pick him off quite easily. Max now sits in P3, around 1 second behind Alonso. Max overtook Alonso with the help of DRS, slotting into P2 behind Perez. The Dutchman is now 3.8 seconds behind the race leader, Perez.
LAP 10/57: RUSSELL OVERTAKES GASLY
Max managed to overtake Gasly effortlessly into turn 17 just like he did with Russell a lap before. Russell took advantage of the situation and overtook Gasly into turn 1. This places Max in P4, Russell in P5, and Gasly in P6.
LAP 9/57: MAX OVERTAKES RUSSELL
While Russell had DRS behind Gasly, it wasn't enough to protect against the Red Bull of Max Verstappen. Max has made his way to P5 and should overtake Gasly in the next lap to slot into P4.
LAP 6/57: VERSTAPPEN'S PACE
Max Verstappen had a great start and has closed the gap to Russell. The Dutch World Champion set two fastest laps in a row and poses a threat to Perez for the win. Since he has DRS on Russell, he should pass the Mercedes easily in the next few laps.
LAP 3/57: DRS ENABLED
Max Verstappen managed to overtake both Leclerc and Magnussen into turn 1 thanks to the help of DRS. He now sits in P6, 2 seconds behind Russell. Leclerc and Magnussen are still fighting for position, with the Haas showing immense pace.
LAP 2/57: A CLEAN START
Sergio Perez had a great start and lead the pack into turn 1. Alonso followed closely behind while Russell and Gasly managed to make up a few spots. Both Haas drivers dropped places, with Magnussen dropping to P7 and Hullkenburg down to P11. Hamilton also lost a place and sits in P14.
FORMATION LAP
All 20 drivers get off the line for the formation lap. While Max starts in P9, you can expect him to make up some ground on the first lap. Alonso managed to overtake Perez into turn 1 before, so Perez will have to get a good start to maintain his lead.
Check out more Formula One content in our dedicated section.