2023 Porsche 911 GT3 RS Tribute to Carrera RS 2.7 has arrived
Last year at Monterey Car Week, Porsche teased an RS-themed 911 and then followed that up by showing it to us in October. Now the 2023 Porsche 911 GT3 RS Tribute to Carrera RS package has arrived.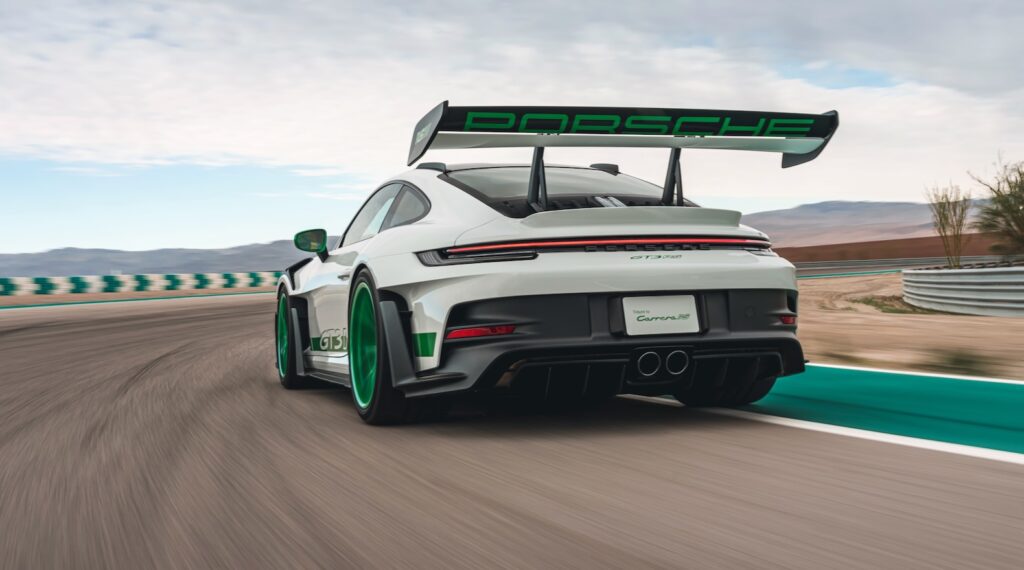 It's a tribute to the 1973 911 Carrera RS 2.7 and the public will get to see it during the 12 Hours of Sebring race from March 15 to 18 and initial deliveries are slated to begin in just a few weeks.
"This package pays tribute to the 911 Carrera RS 2.7, an absolute driver's car and an icon," said Kjell Gruner, President and CEO of Porsche Cars North America. "Today, nothing epitomizes the idea of a driver's car more than the new 911 GT3 RS. Like the original, it uses cutting edge aerodynamics to achieve incredible performance, making this a perfect homage to the legend from 1973."
The Tribute to Carrera RS Package includes unique styling elements, a bespoke Porsche Design timepiece and several accessories including a custom car cover, RS valve stem caps with script in Python Green, key caps in Python Green, custom license plate frames and a pair of 1:43 scale model cars; one being the 1973 Carrera RS and the other a replica of the one you see here.
It also gets magnesium wheels painted in Python Green, Python Green mirror caps and GT3 RS side graphics. Porsche script on the underside of the wing, a GT3 RS graphic on the rear bumper and a special RS logo on the wing end plates featuring the American flag.
It also comes standard with the Weissach package, which adds exposed carbon fiber to both the interior and exterior, and chassis components. The package also includes lighter Magnesium wheels, carbon fiber anti-roll bars, coupling rods and a carbon fiber shear panel.
The 2023 Porsche 911 GT3 RS Tribute to Carrera RS 2.7 is priced at $314,000.