Day of the Drag Race: The 2022 Race of Gentlemen
On Saturday night, I hit rock bottom. The Race of Gentlemen was over. My reporting was finished. Dinner was digesting, and I was ready to be back in room 213 at the Quality Inn. But that wasn't an option. Instead, I was at Rock Bottom Towing on the outskirts of Colton, on the banks of the Santa Ana River, peering through a chain-link fence at my truck. It had been towed from an unmarked spot while we were closing our tab.
"Who is the registered owner?" asked a gruff man with a gravelly voice.
"That's me," I replied.
"Come back and get your paperwork."
He yanked open the fence. I motioned to my friends Yama and Blue to walk back with me.
He held up his hand. "Just you," he said with a sneer.
"Why is that?" I asked.
"Those are our rules. You're lucky to even be here."
As he spoke, I scanned the lot. There was a stripped Corvette, a Mustang and beat-up vehicles as far as the eye could see. I noted the barbed wire atop the fence, and the office trailer with its wood paneled interior. Other workers slinked around the gravel lot, occasionally staring at us in disgust.
When Yama and Blue tried to follow me in, the man raised his voice. "Everybody out. Now!" My mind began to race. "We've really kicked the hornets' nest now," I said to myself.
I made some calls. Yama did the same. When we tried to reason with the next employee, we fell out of the frying pan and into the fire.
"Now you've done it," said the original tow truck driver. "You're really going to pay. We're going to make sure every single car gets out of here before we get around to you. Stand out there and wait. Now."
The air was cold in Colton that night. Minutes turned to hours as we paced on the private road, wondering what we were going to do next. We heard singing—then screaming—and then singing again from the neighboring stack of shipping containers. I studied the cactus, then the ground, then the stars.
"How did our trip to the drags turn into this?" I asked, closing my eyes. I thought back—way back—to how this entire saga began.
The Road to Flabob
 At this point, The Race of Gentlemen is a household name in the hot rodding world. It's spanned both coasts and even inspired similar events internationally. Back when I was working at The Rodder's Journal, I missed T.R.O.G. in Pismo, thinking that I would catch it the next time it came to town. As many of you know, it never did. Instead, it evolved into the Santa Barbara Drags, which took California's Central Coast by storm in 2019. I went. To put it simply: it changed my world.
That event was groundbreaking on several levels. First, it widened the scope of T.R.O.G., allowing overhead V8s for the first time. This opened the floodgates to Gassers, Altereds and an interesting mix of competition machines. Seeing Bob Tindle's "Orange Crate" blast down the streets of Santa Barbra left a lasting impression on me.
The second piece of this equation is a little more personal. While wandering around the pits, I noticed a black and white striped Model A roadster. Riding high and powered by a four-banger, it was different than pretty much everything else there. It looked like it was plucked off the Atlantic Shore and transported to the Hilton Santa Barbara Beachfront Resort™. I noted the heavy chop, lakes header and, above all—the yellow steelies. "You know what," I said. "This looks like something I could build myself."
A year and a half later, I was doing just that. During the early days of the pandemic, I spent every waking hour building my Model A roadster in my leaky San Francisco garage. Version 1.5 of that car is now finished, and it's my daily transportation here in the city.
When Meldon Van Riper Stultz III and the Oilers announced that they were coming back to California, my friend David di Falco and I launched a plan. Finish the V8 version of my roadster, road trip to Riverside to race, and then drive home. Simple enough right?
So, for the last four months, my Saturdays were filled with cutting, grinding, welding and dreaming. I imagined being out on the track with V8 burbling and quickchange whining. I pictured spinning tires, grabbing gears and smiling as I crossed the finish line at Flabob Airport. One thing was for sure: it would make for one hell of a story.
As you know, things don't always go as planned in the world of old cars. Despite our best efforts, we couldn't get the roadster finished by December. "No worries," I said, "I'll just take my 'banger car. It's already finished and ready to go."
Unfortunately, things are never that easy. After shining on our camping trip and serving as the perfect around-town machine, I heard an unsettling clunking noise on the way back from an early morning swap meet in San Francisco's Bayveiw neighborhood. As I pulled off on the side of Baker Street, I wasn't thinking about T.R.O.G. Instead, I just wanted to make it home. I limped it back and assessed the damage.
It's the brake drum. It's the wheel bearing. It's the clutch. Is it the crank? With David's help, we troubleshot. "Drive it up a hill and coast down with the engine off," he said. "Then you'll really be able to isolate the issue." By the time I had rolled down Fulton, one thing was for sure—the rearend was toast.
At this point, I'd like to write something like, "I didn't panic." But that would be a lie. I did panic, just a little bit. I weighed my options. Should I throw in the towel? Should I just stay home and work on the V8 car? Both would have been more logical (and far better decisions financially). Instead, I sat down at my desk and got to work.
Texts. Phone calls. DMs. PMs. Craigslist. Ford Barn. Instagram. H.A.M.B. Facebook. I told friends, strangers and everyone in between about my plight. I needed a complete Model A rearend, and I needed it fast. I looked at the calendar: 12 days until Riverside.
Through my searching, I was able to source a rusty, mystery Model A rear. It didn't have a spring, but it was otherwise complete. The $150 price tag wasn't bad either. While I was making arrangements to pick it up, I got a message from Jeff Smith here on the H.A.M.B. He was converting his Model A to V8 power, and I knew he had the original rear in the garage.
"…I had planned to hang on to the A banjo until the build was done just as a backup, but this sounds much more important. I'm sure we can work something out so you can get to T.R.O.G."
A few days later, I was at his house, hoisting the complete rearend into my truck. I thanked him profusely and made a beeline for the city.
I spent Friday disassembling and reassembling springs, chatting with neighbors as I tightened down C-clamps and sipped a Corona. Five days before we were scheduled to leave, Yama and I installed the "new" rearend. As a winter rain fell on Loyola Terrace, I pushed the car out into the cul-de-sac. It rumbled to life, and I let the engine warm up. Clutch in. Shifter into gear. I gave it gas. No clunking. No grinding. Nothing bad as I made my way down the street.
Yama ran down the block after me. Before he could say a word, I told him to jump in. With that, we were off into the Richmond, carving up and down side streets as giant roostertails shot off all four tires. "We're going to T.R.O.G!" I said with a smile. "We're really going to T.R.O.G!" The rain washed away all doubts. We did it. We were ready to go.
That night, I started painting my racing number in my narrow one-car garage. The following morning, I finished the project in the driveway under sunny skies. "If I'm going to go racing, I need to really go racing," I told myself. "Nothing mild here." Mixing my own tempera paint, I laid out a giant copper explosion with the number 947 on both doors. It's a tribute to the final moments of roadster's old rear axle.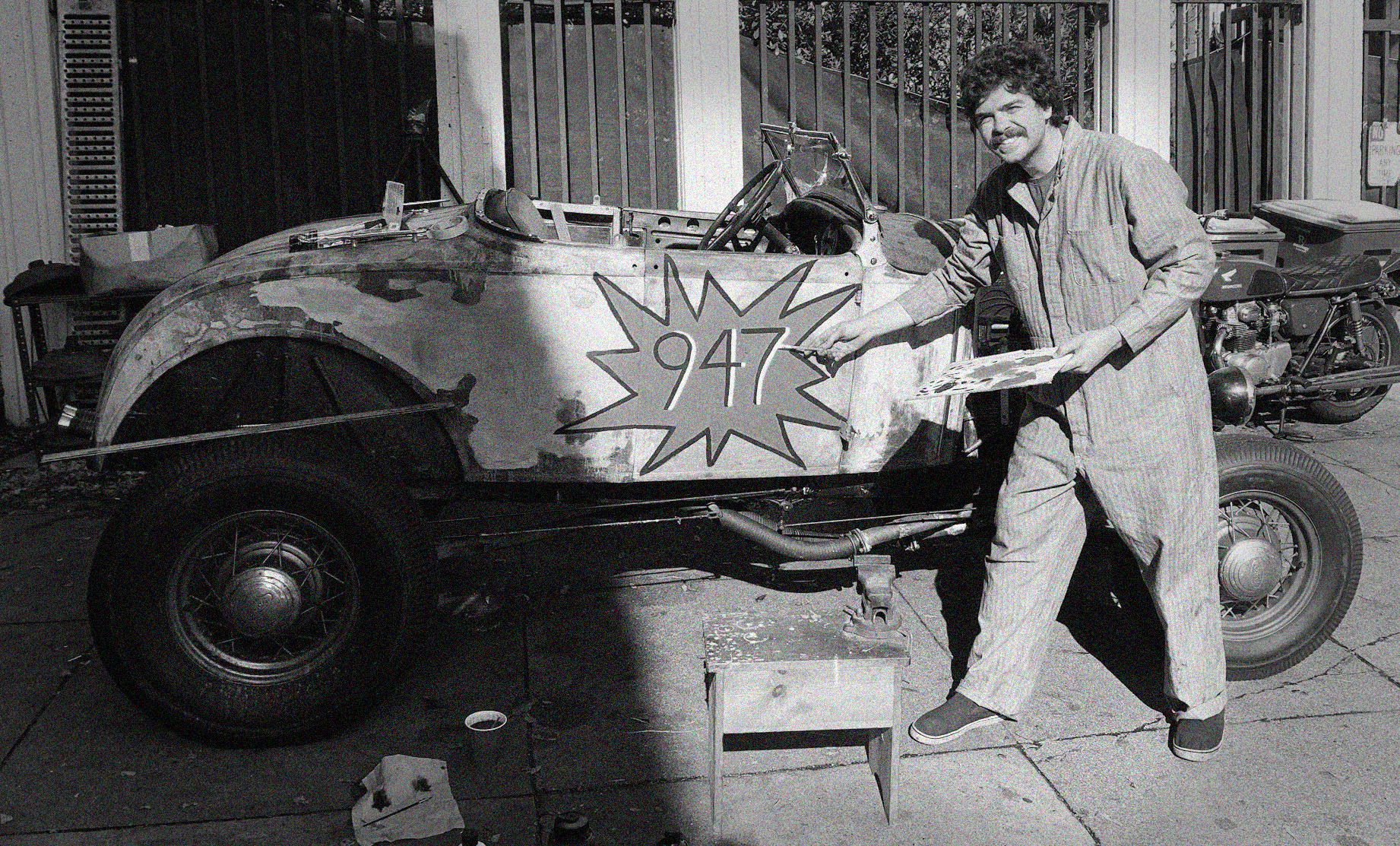 Just like the early hot rodders, I unbolted the headlights and windshield in preparation for a day the drags. I lettered Yama's 1942 WLC Harley to match. By Wednesday night, we decided we were as ready as we would ever be.
Heading South
With the bike in the truck and the roadster on the U-Haul trailer, me, Yama and Blue loaded three-across in the bench seat. "Away we go!" I said, turning the key. Click. Nothing. I tried again. Click. Nothing. With the trailer lights and emergency flashers, we had killed the truck's battery while loading. I pulled out my jump box. Within seconds, the engine came to life. We laughed and hit the road.
As we cruised down Highway 5, we were all excited—and admittedly nervous—about the upcoming weekend. How would we stack up? We recognized that we were some of the youngest entrants racing on a shoestring budget. We didn't let that bring us down. Not at all.
The ride down to Los Angeles was easy, but the last 50 miles took hours. It was dark when we arrived at Flabob Airport, which, to our surprise, is located right in the middle of a neighborhood in Riverside.
With everything in position at the track, I began to feel much better. Driving to the Quality Inn, I took a moment to appreciate the old buildings and older neon signs along University Avenue. There was the "Skylark Motel," "Thunderbird Lodge," and more, with their bright colors glowing in the crisp Southern California night.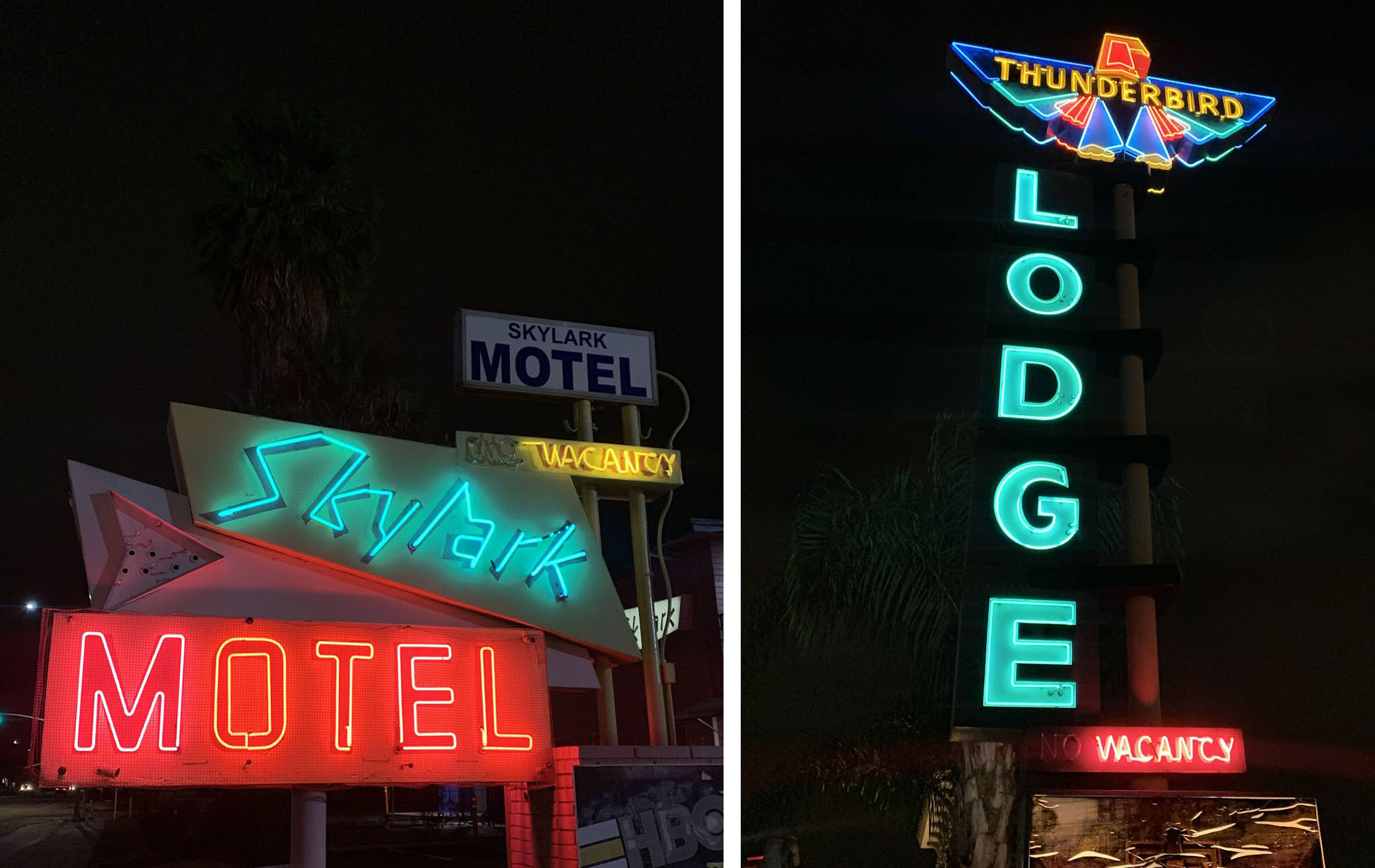 Bring out the Barnstormers
On Friday morning, we returned to the track. Weaving through the corrugated metal hangars, we found a place to park. I made my way over to my roadster and fired it up. A few kicks later, Yama's Harley roared to life. We both cruised around the hangars, warming up our machines.
My head was on a swivel as I rumbled towards the pits. As soon as I passed the tower, I ran into Tom Secora and my friends from Omaha. Then I saw "Detroit" Randy Hayward, and Charlie Hascall of North Palm Speed. They all greeted me with handshakes, hugs and smiles. There was no doubt about it—I was in the right place.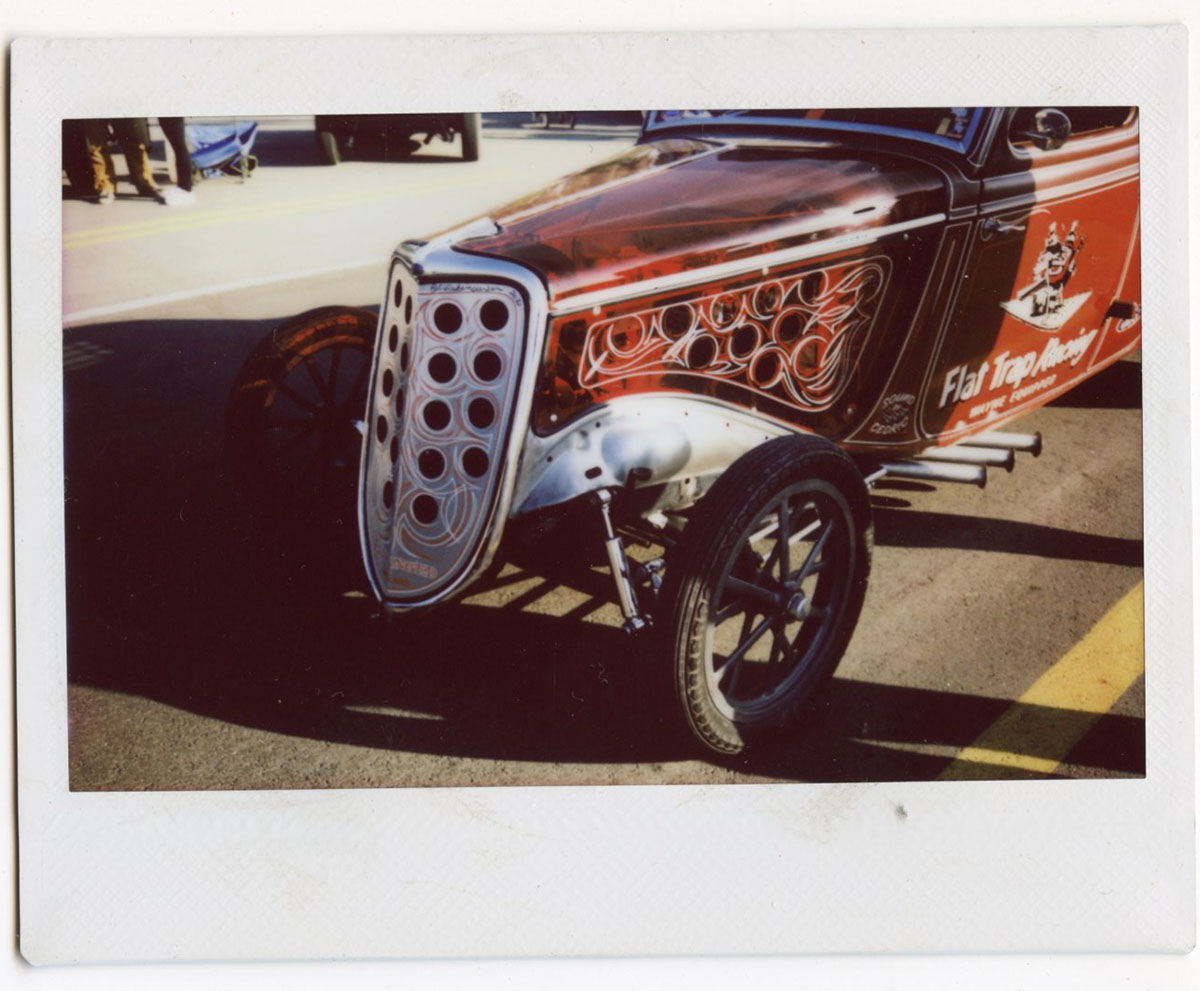 Both Yama and I made it through registration and tech without any issues. I picked up my Press Pass and walked over to my spot in the pits. From there, I spent the afternoon catching up with friends and finishing the numbers on my car. I saw the "Taco Coupe," which was built by high school students for the race.
There were flathead-powered rails and Cedric Meeks' '34 Ford with a buzzin' half-dozen beneath the plexiglass hood. The Branch family brought their fleet of early Fords, and Hothead Lou's roadster sounded nasty with its 4-71-blown smallblock. As the pits ebbed and flowed, we watched vintage biplanes take off, fly in formation and land. Even though it was all fun, I couldn't help but think about what Saturday would bring.
Alas, when my alarm went off the next morning, I was ready. I threw on the custom "947 Works" jersey Yama made me, and we headed towards Flabob.
The racer's meeting was over in a blur. Soon thereafter, I was in the staging lanes with my car off. When I'd advance in line, I'd hit the starter, turn on the car and move forward before shutting it down. Before I knew it, I was at the front of the line against a V8 roadster.
Helmet on. Glasses on. Seatbelt fastened. Transmission in first. I watched the flagman, best known as "Lyle the Terrible." Flags up. He jumps. Flags down. Both cars launch. I have the pedal to the wood, winding out the banger. The V8 is too quick to catch, but I don't mind. I cross the line and coast towards the return road.
On the second race, I try launching in second gear like I did at the Harvest Drags in Oregon, but that doesn't work. Too slow. By the third showdown, I've started figuring things out. I'm in the far lane, and I look over at the competition—a channeled Model A coupe with a healthy V8 cackling through a sextuplet of straight pipes. I creep to the line, watching Lyle. When the flag drops, I launch hard, spinning the Firestones and giving it everything I have. As I roar down the track, I get low in the cockpit to cheat the wind.
First gear. Second gear. Third gear. I'm not thinking about the engine or the transmission or the axle or anything other than crossing that line. When I see the giant red and white checkered towers, I look at the other lane. I won! I can't believe it. "Yesssssss!" I pump my fist towards the sky. "This is what it's all about!"
Surprise Visitors
After the next race, I can tell that something isn't quite right with my car. The starter turns over slowly, and then nothing. Damn. I think about all the starting and idling. There hasn't been much time to charge the battery. Remembering my truck at the beginning of the trip, I try the jump box. It fires right up. When it dies again, Yama and friends give me a bump start.
Finally, on a return lap, I can't get it to start at all. I tested the battery: 7.5 of 12 volts. My heart sank. One of the officials tries to lend a hand, but eventually he suggests that we push it through the spectator area back to the pits.
I've already made a few passes, but I'm not ready to call it a day. We've come too far. As I'm pushing, people from the crowd join in. Initially, it's one. Then two. Then four. The car gets lighter and lighter as I get more help. When we reached the massive World War II airplane near the tower, I heard another voice ask if I needed one more set of hands.
"No thank you," I said, looking down. "I think we got it."
"Are you sure," the voice says.
"Yes, thank you." I look up.
There, staring right back at me is my roommate Michael and his girlfriend, Victoria. "No way!" I shout, wrapping my arms around them.
Earlier in the week, they hatched a plan to fly down from San Francisco and surprise me at T.R.O.G. I couldn't believe it! As luck would have it, my welding professor Dave also happened to show up at that very moment. And so did Yama and Blue!
My joy quickly shifted to concern. "I'd hate for you guys to come all this way and not see me race," I said. "I'm going to go buy another battery in a second."
Without hesitation, they offered to join me on my trip to Autozone. While we carved through the Southern California landscape, we listened to Latin-inspired instrumentals and talked about the weekend's adventures. I admired the towering palms and the mountains far off in the distance.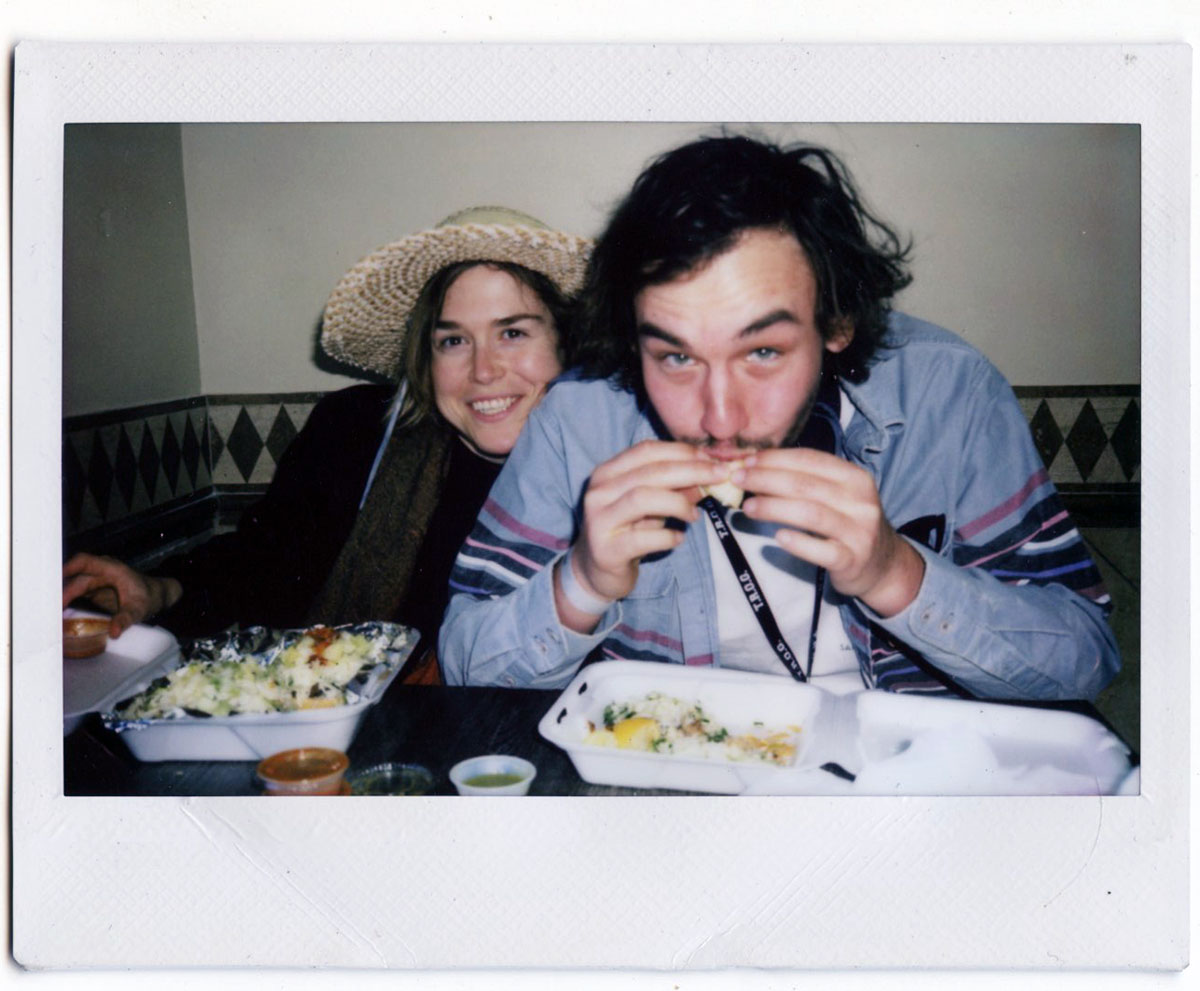 With the battery in our possession, we swung by a local taqueria for tacos and sopes. I stopped at a second store for carb cleaner for Yama before returning to the track. As soon as I parked my truck, I made a beeline for my roadster. The staging lanes were full, and I needed to get back out there.
At this point, I'm confident in my ability to take my car apart. While I was gathering my tools, a man on a beach cruiser crashed into my car's door. "Hey there!" he said with a smile. He introduced himself as Mike, and he said he had a hangar at Flabob. "Come on, man," he said. "Let's get this thing back on the track."
I didn't have time to be confused by the absurdity of the situation. For the next 20 minutes, Mike was my assistant, handing me tools, watching me work and offering advice along the way. "Ah yeah, yeah," he'd say as I took things apart and put them back together. "Oh yeah, now you got it."
I realized that somewhere along the line my electric fuel pump called it quits, so we changed that too. With those two items fixed, the car was back to full health. I fired it up, rolled though the pits and ripped towards the staging lanes.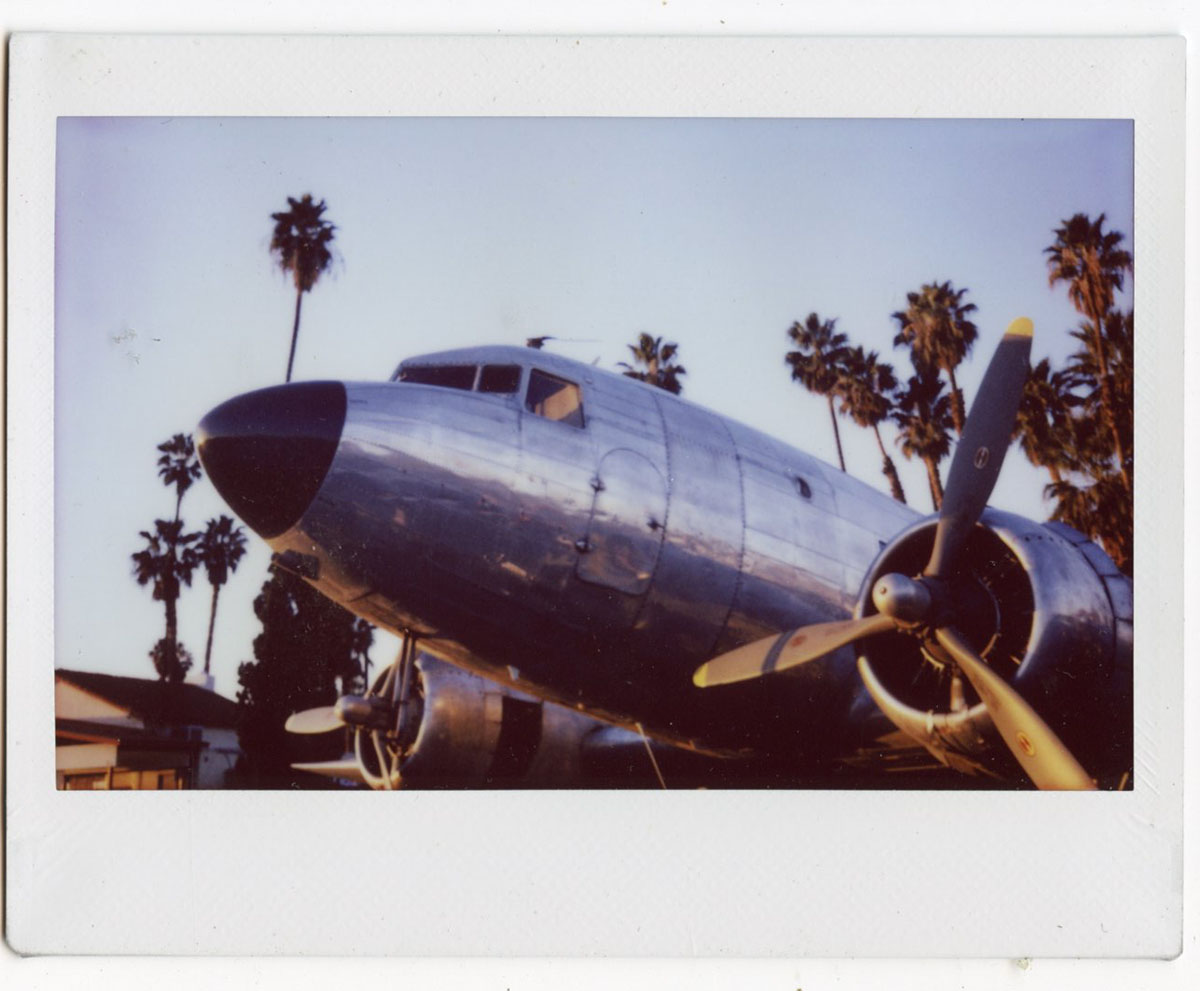 Hot Rod Hitchhikers
The rest of the afternoon was an absolute riot. I made pass after pass, improving my reaction time and speed shifting in every race. I loved hearing the announcer and looking out into the crowd before each run. I could see the faces of people I've met through journalism, through the H.A.M.B. or from other avenues. There were old friends, new friends, folks who knew what it took to make it to Riverside and others who didn't have any idea in the slightest. The whole thing was perfect—just perfect.  
As the sun set on Flabob Airport, I made my final run of the day. Michael and Victoria met me at the big end to congratulate me on a full day at the races.
"Would one of you like to hop in and head back to the pits with me?" I asked.
"Michael, you go," Victoria said.
"Victoria, you go," Michael replied.
"How about we all go?" I said.
With that, we all piled in my car. I fired up the engine one last time and we rolled down the track. And as we did, we waved at the crowd. They started to cheer. I got closer to the wall, leaning in for high-fives. Before I knew it, more and more folks reached out. All three of us cheered. "Wooooo! Let's goooooo!" We all started laughing and didn't stop all the way down the track. We high-fived Lyle and the Oilers, and we thanked Mel for making this dream come true.
The sun had all but disappeared over the horizon as we pulled into the pits. Yama and Blue shuffled over after a hard day of racing, and we all plopped down on the ground, exhausted. Dave the welding teacher joined us, and so did our friend Erik from San Francisco.
We sat there, chatting, recalling the triumphs and tribulations of the day. I felt at ease.
"We did it guys. We really, really did."
Rolling out
I'm not sure how long I stood next to that gate at Rock Bottom Towing, but I know eventually an employee named Greg approached me. "Are you the registered owner?" he asked. Defeated, I told him I was. He finally had me retrieve my paperwork.
Within the hour, I was back behind the wheel of my truck, significantly poorer and more beat than ever. I turned the key. Click. Nothing. I tried again. Click. Nothing. "Looks like you left the flashers on and killed the battery," I said. A third worker returned, but couldn't figure out how operate the jump box. Eventually, he jumped the truck, and we were on our way.
It's been a week since we left for The Race of Gentlemen, and I'm still recovering. The entire weekend was a sensory overload, and it's hard to pinpoint what it was that made it so special. T.R.O.G. is a reunion. It's a large-scale event that feels both big and small at the same time. The cars are world-class, and the entire place was a photographer's paradise.
Covering events is one thing, but being able to actively participate is a completely different beast. I'm grateful that I got to do a little bit of everything at T.R.O.G.'s Southern California Drags. Thank you Mel and the Oilers for hosting, as well as Flabob Airport for putting up with all of us hot rod hoodlums for a whole weekend. Special thank you to Yama, Blue, Michael and Victoria for having my back, and thank you to each and every one of you for coming along for this wild ride.
I'm looking forward to coming back next year with my V8 car. Let's just hope it doesn't end up getting towed.
—Joey Ukrop
35mm photos by Yama Azim. Special thanks to Ridetech for making this trip a reality.